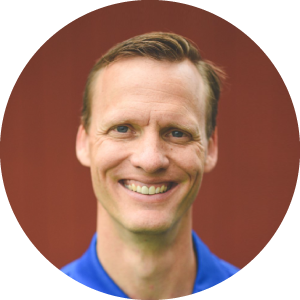 Eric started painting in high school, and then started his first painting company while in Graduate School. After pursing another career for 5 years, he moved back to his hometown (Columbus Ohio) and started a 2nd painting company. This time, however, it wasn't just to get to another end. It took off after he found that he loved working with young adults (18-25 years old). He and his wife personally mentored a number of their first employees. A big turning point came when he faced up to my strengths and weaknesses & was challenged to hire for his weaknesses and focused on his strengths. Their leadership team runs a $3+M painting company, and Eric is also involved in several additional start-ups in the home service arena.
He is married to his high school sweet heart for over 25 years. He is blessed beyond measure with 7 kids! For Eric, life is most enjoyable when you get to help others succeed. Its truly no fun getting the top of a mountain and realize there's no one there to enjoy the view with you! Experience taught him that helping people navigate their professional life, often makes huge differences in their personal lives as well an that the lessons learned at work can often improve their lives at home.
Eric's superpowers are traction implementation, building a super focused culture and hiring great people. He loves influencing the next generation to do great things.
What am I most passionate about?
I am passionate about developing people. 
Eric's Coaching Philosophy
He believes that with great books (information) and exposure to various experts, teamed with hard work, will lead to success.
Business owners need someone to bounce ideas off of.  They need someone, at times to comfort, and at times, someone to call them out for bad choices.  Most employees won't tell the boss the things they really need to hear, and most have no idea the stress business owners shoulder everyday.  It can be a lonely place.  Conquer Coaching is a place where owners feel they don't have to it alone.